Last Updated on June 28, 2022
Maintaining the look of a car makes your car to remain attractive and look new. One of the best ways to maintain the look of a car is by painting it. This is especially when there are dents, scratches, or when the paint on the car is already fading out.
In the past, small-scale painters and individuals paint their cars by using a foam paint roller. While this is also effective, it could be stressful as it is slower. Furthermore, it might be difficult to paint some parts of the car, especially those areas that are very narrow or curved.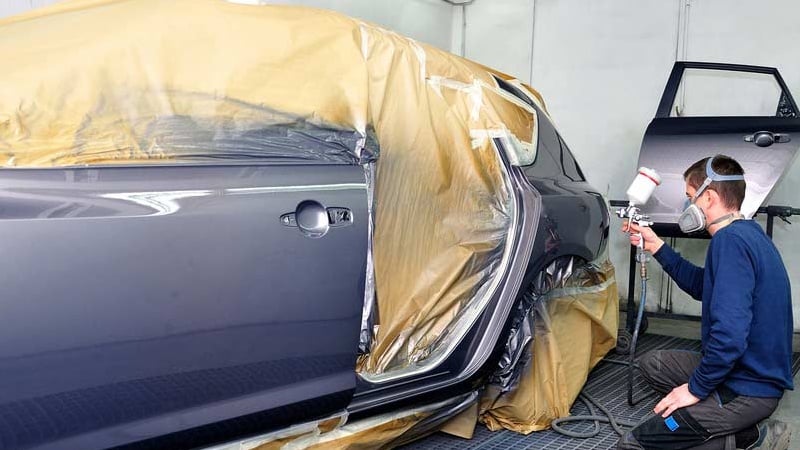 Things You Will Need Before Painting
There are some required items you will need, to paint your car.
The car you intend to paint.
A nice color of gloss paint or any type of paint you prefer (4 quarts for a normal car, or more if you are painting a bigger car).
Sandpaper, of the right grit(s)
Masking paper and tape
Tools for miscellaneous tasks including a liquid wrench can ratchet sets and screwdrivers amongst others.
Spray gun
The Right Paint
The Right Brand
It is worthy of note that painting is a job that you will need to painstakingly carry out. You will, therefore, need to be very patient and careful during the painting.
Trim Removal On Car
Check the door jams and other parts of your car. It will be difficult for you to mask every trim in your car one after the other. It will thus, be best to have them removed with the aid of the right tools.
The things you should remove include door latching stuff, license plates, reflectors, lights, rubber gaskets, and other parts of the car that can be safely removed, especially when it is covering or very close to areas you intend to paint.
Sanding
The next step will be to sand the car. This process is very important while preparing the car for painting. To carry out sanding, you should first use grease and max remover as well as use strong soap or any ingredients you prefer, to clean the paint, after which, a 300 grit or a 400 grit can be used to sand the car.
For difficult areas, use scouring material or abrasive foam as they conform better, compared to the normal sandpaper. The whole essence of doing this is to remove the finish's shininess so that you can proceed beyond the part of the clear coat finish.
You, however, also don't want to sand it such that you reach the bare metal of the car. If you have issues with dents on your car, then you might want to make use of Bondo to fill it up, especially when it is a small dent of 2 inches.
Masking Painting Technique
The next step is to use masking tape to cover everything you do not paint to touch while spraying. You will need to use a green extra-strong auto masking tape or blue painter's tape. Areas you should consider masking include tires, radiator, engine bay, tall pipe, inside the car (as the doors will need to be open while painting), door handles, rubber gaskets that you couldn't remove, mirrors, rear window, side windows, and windshield.
With accurate masking, you will be able to carry out nice spraying, such that your car will be neatly sprayed.
Best Suitable Paint
Depending on your painting job, you should select different types of paint sprayers. For restoration projects, you may choose acrylic lacquer or acrylic enamel to re-establish the original factory finish. But if you need durability urethanes based coating as well as water-based finishes are great choices.
Different types of spray paint for cars
Among the most popular types of spay paint for your vehicles, these 4 types are generally used by professionals as well as homeowners.
Water-based paint – Mostly used for the car but the paint mixing process is pretty tough, need lacquer protection before using water-based paint.
Nitrocellulose paint – After finishing, vehicles look like the original new model, shine better than any other spray paint
Acrylic enamel – Compatible with spray paint machines 
Acrylic urethane – Expensive but durable
Paint spray gun for cars
The HVLP( High Volume Low Pressure ) spray guns sometimes known as automotive paint spray guns used in the car industry to paint quickly. A variable spray of spray guns furnishes the highest painting coverage. The  DeVilbiss 803558 Finishline 4 FLG-670 Solvent Based HVLP Gravity Feed Paint Gun is compatible with all spray guns. Professional car painters often used it for perfect finishing. The gun can easily handle any kind of paint smoothly.
The Right Brand For Paint
We recommend you stick with the same brand for the paint system for your entire project. But there are some other cases. There have been many successful painting jobs that have gone with a mixed paint products system.
If you have already decided to go with a mixed product like mixed primer and topcoats from different companies, then we recommend you test for compatibility before you are going to start spraying on your project surface.
Priming
The painting of the car is best done outside. Wearing a mask is also recommended, to avoid exposing yourself to cancer-causing agents. Clean off every dust and loose paint on the car with some tack cloth.
You can now use your spray gun to spray the car with an automotive primer. If you want to add a second coat, you should wait for about 1 or 2 hours for the first coat to get dry. After you are okay with the number of coats, allow about 2 days for the car to dry.
Painting Instructions To Follow
After all of these preparations, it will be time to carry out your painting with your sprayer. It is advisable to re-mask so that the paint and dust from the former masking paper do not move to your new finish. Tack cloth or compressed air should be used to clean off every dust in the car.
You should mix a small quantity of acetone with the paint. The quantity of acetone is recommended to be less than 5 percent of the paint you are using. While thinner paints give a smoother result, it might be difficult to use paint that is much thinned on cars, as it could run on vertical surfaces.
With your sprayer, it will be easy to reach areas rollers will find difficult to reach such as the cracks and jams. Before you start spraying, you should use soft sandpaper-like 800 grit, to sand your primer for best results.
If you should encounter painting issues such as fish eyes and orange pool, you can sand those parts away and try to repaint them. You can also spray more than one coat on your car. Give some hours before you spray the next coat. Give some days for the car to dry, preferably more than a week.
Completing The Final Touch
Once your paint is dry and nice, you can return all the trim you removed earlier. You can confirm if your paint is dry by pressing your fingernail on it, the paint should not stick or wipe on your finger. While you can now start using the car, you might want to use it for some time, before washing it. You should also reduce exposure to the car to UV. You might observe some cracks as a result of the impact, scratching by a cat or other animals as well as paint dissolving due to bird droppings. These spots can be touched up, to give your car, a close-to-perfect look.
You will be happy with the great results you have gotten with your sprayer, in an easier and faster way, compared to using foam rollers to paint the car.
FAQ
Can you use an airless paint sprayer on a car?
The answer is YES. Painting with an airless paint sprayer is not an easy task for a beginner. You need to use quality materials with an extra reducer in the paint. But if you want smooth finishing to paint a car with an airless sprayer then I highly recommended repainting with a professional.
Can you paint a car with a Graco airless sprayer?
YES, Graco magnum airless sprayer is suitable to paint your car. Graco Magnum 262800 X5 sprayer is manufactured for homeowners, DIY, and handymen that are best for the money. If you are looking for a Graco paint sprayer for automotive, then Graco 262800 X5 is the top choice for your small projects.
Can you paint a car with a Wagner paint sprayer?
Definitely, Wagner Motocoat 0529031 paint sprayer has some special features to make textured car paintings. The iSpray nozzle is outstanding to give a stylish finish and thick coat. The dual cartridge respirator of this paint sprayer helps to give the final finishing to your car.
Reference: https://www.hotrod.com/articles/mopp-0612-how-to-paint-a-car/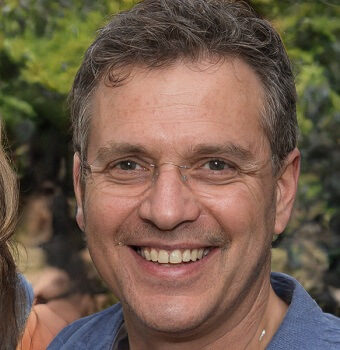 I am extremely happy to share with you my experience throughout SprayerBoss. As a painter, I like to experiment with new sprayers from different brands. Since my first painting, I love to learn new things every time I doing a painting project for my own or clients. I have painted fences, walls, furniture, cabinets, cars, etc. but painting furniture is more challenging to me. Hope you will get the easiest way I found myself to overcome the difficulties towards a better finish. My hunger is to find the best paint sprayer that took less effort but budgets friendly.